Frequently Asked Questions
Which class is best for my child?
We are passionate about giving your child just what he needs, when he needs it. Our research-based curricula grows with your child from infancy through second grade. Age groups overlap, so if you aren't sure which class is best for your child, feel free to contact me by text/call (619)656-9178 or email annettemec@cox.net
---
How does Kindermusik benefit me as a parent?
You are your child's first and most important teacher. Therefore, the goal in our classes, in weekly emails and in online posts is to help you learn how to brighten up your everyday routines with the magic of music and movement. And, to welcome you into a supportive environment where parents find warm camaraderie with each other and children develop their first friendships.
---
How do babies and toddlers benefit from Kindermusik?
Every activity in every lesson has a specific developmental purpose: enhancing listening skills, increasing vocabulary, improving physical coordination, introducing pre-math and reading concepts and growing social skills.
Infants are born with billions of nerve cells and a nearly unlimited potential for connections between those nerve cells. Every time a child has a sensory experience, neural pathways are formed: the greater the number of neural pathways, the greater the brain power. This is why rich sensory environments are vital to the brain development of infants and why our classes are full of sounds, sights and movement as well as quiet times for processing and bonding with caregivers.
---
I am interested in private music lessons, Why do Kindermusik first?
In our Young Child class, for children in 4 1/2 to 7 years, students learn to read music and to play instruments: the glockenspiel, dulcimer and recorder. Using the principals of Suzuki, Kodaly and Orff, students explore and learn in many different ways: speaking, singing, moving, dancing, listening and playing instruments. Young Child helps every child develop a confident, joyful voice for singing and speaking as well as essential building blocks for a future of successful learning.
---
What is your makeup policy?
I offer unlimited make-ups as long as you are currently enrolled in a class. However, I do not credit your account for missed classes. In other words, you may come to two classes in a week to make up for an absence, but I do not discount the following month's fees for missed classes.
---
What do parents have to say about Kindermusik with Annette?
"I am so glad we joined your class because I think it's the most joy (my daughter) and I get from all of our mommy and me classes."-Jamie Marchand
"My daughter has developed an incredible love for music, thanks to Annette's class. I have loved watching her grow each week. Annette has incredible patience and love for all of the kids in her class."-Carolyn McClaskey(teacher and director of Christian Youth Theater(CYT)
"When I first started Kindermusik, I thought my daughter was going to be too young to really enjoy it (she started at 3 months old.) Boy was I wrong! Annette does a great job engaging all ages in the activities and explaining the developmental importance of each activity to the parents."-Jenan Krouchick
---
My child has special developmental challenges. Is it still okay to enroll in Kindermusik?
Absolutely! Children with Autism or Down Syndrome, hearing impaired children and those with other physical, emotional, speech and learning needs have generally thrived AND improved in Kindermusik.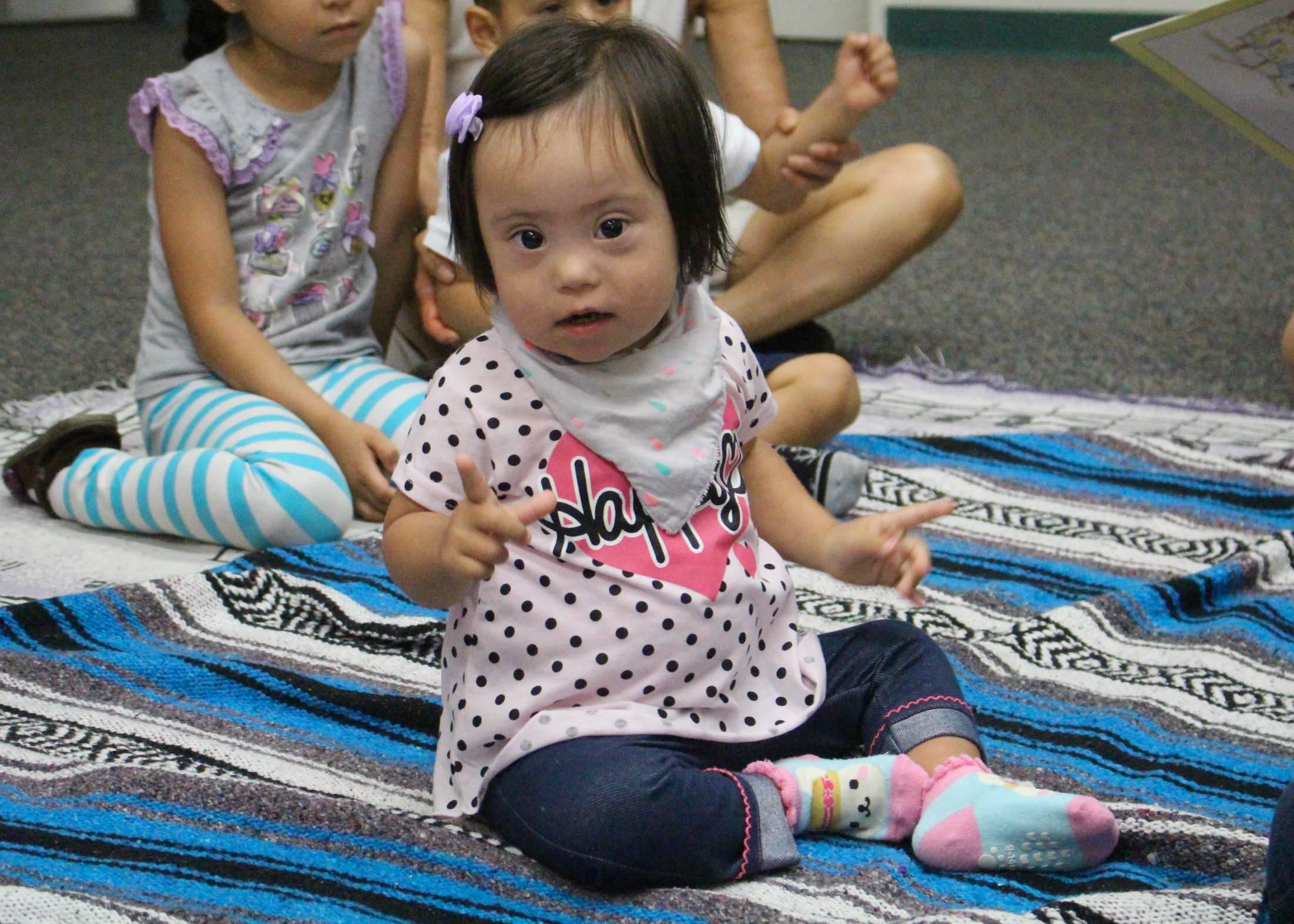 ---
Why doesn't Kindermusik cost less?
Kindermusik is the leader in Early Childhood Music and Movement programs. Being a part of "KINDERMUSIK" ensures that you get an exceptional product and an exceptional experience.
Kindermusik regularly consults with experts in the fields of early childhood development, music formation and movement as they develop their curricula. These experts, along with an amazing team at Kindermusik International, bring their knowledge and experience into family's lives. No other curriculum can boast of such backing.
The materials produced by Kindermusik International are of the highest quality. With your Home Materials, your classroom experience goes with you every day of the week!
If you compare apples to apples, Kindermusik is often less expensive than other programs. There are no registration fees, no costume fees, recital fees or instrument rentals.
With Kindermusik "you get what you pay for" - and then some!
HOME MATERIALS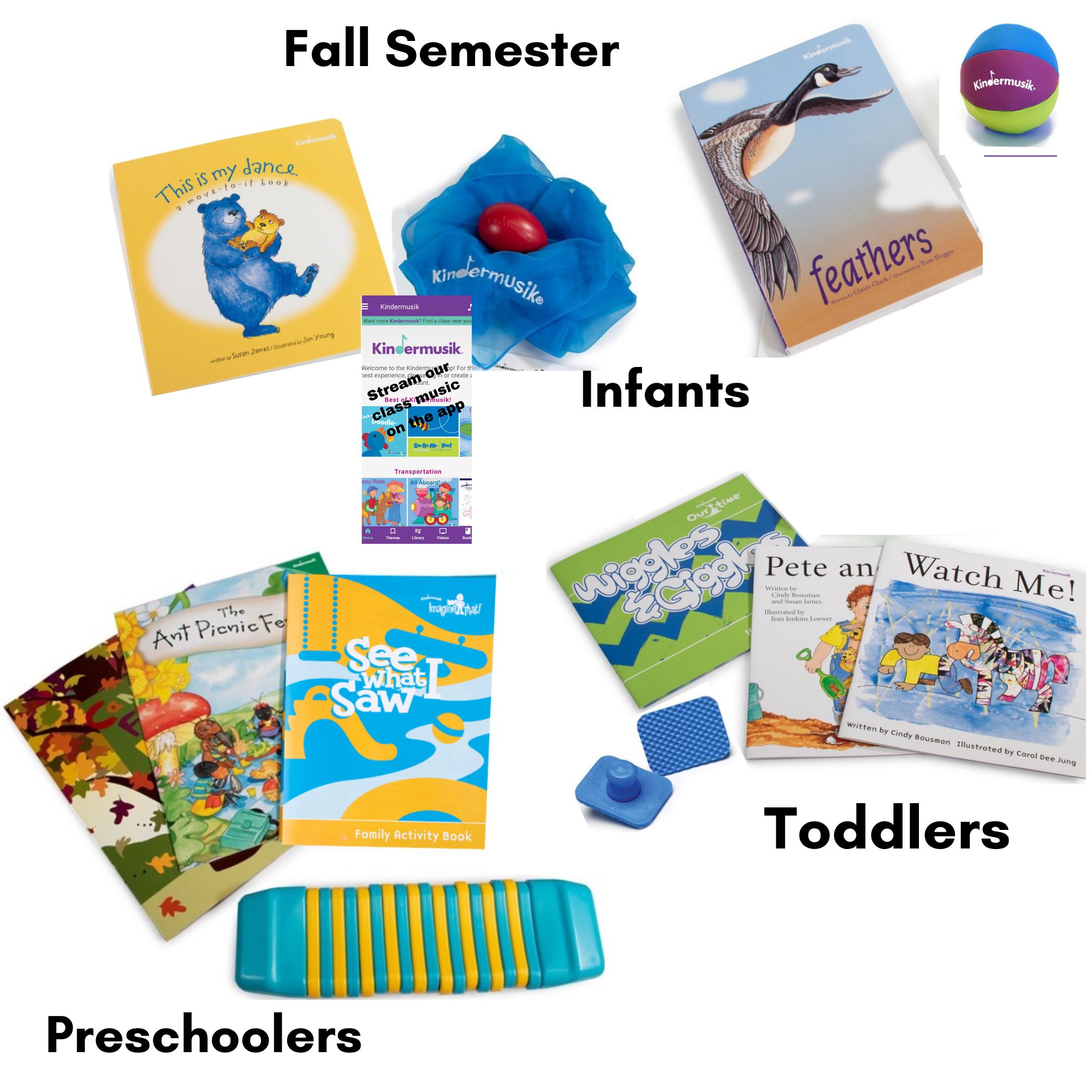 Kindermusik is truly MORE than just music. Carla Hannaford, educator, biologist, and author of Smart Moves, put it this way:
"Kindermusik is elegant in its integrated approach to a child's development...The importance of having families working together, where everyone benefits from the sense of belonging, gets directly at the heart of what we, as a society, are needing at this time to raise healthy, loving children...All of this is provided in the Kindermusik program."
---
What is your Money Back Guarantee?
Simply put, it means that you can register for classes without risk! If you aren't happy with your experience after attending 4 consecutive classes, we will refund your tuition minus the cost of the Home Materials which are yours to keep and enjoy.
If you would like to check out a class BEFORE enrolling, I am happy to schedule a preview visit. Just click here.
---
So, how do I enroll?
I invite you to join thousands of other parents around the world who attend Kindermusik classes every week and to experience for yourself why Kindermusik is the world's most trusted brand in musical learning.
Log onto my website by clicking here.
Find your child's age in the "ages" column
Select the day and time you prefer and click on "register" in the far right column
Not sure which class is best? Email annettemec@cox.net or call/text me (619)656-9178
Kindermusik with Annette Mechling